It was Tuesday afternoon (26 Feb) and I was idly browsing through a local car forum, foolishly I strayed into the classified section, cherry picking a few ads and I found this title halfway down the page.
"Oak Green 16V mk 2 Golf" - Oooh I think, the best Golf, in the best colour ....I wonder how much......'click'
Owner paid 2K for the car less than 12 months ago, took it apart, suffered an injury and now wants rid for £500.
All there (apparently) just needs putting back together, there's no wheels on the shell so it's tricky to collect.
There was a fair amount of initial interest, first and second dibs had gone, and with the ad over a week old, the first weekend had passed without a viewing or sale so to my mind all 'dibs' were now null and void.
So as not to bump the advert, I PM'ed the owner and told him I was was sorting out transport and would have the car and did he want a deposit there and then.
In the meantime I was ringing round mates trying to get a trailer or flatbed or whatever, 20 minutes later I get a call back from my mate Ross who has a mate called Snake that has a trailer but it's 25 miles away. The car itself is 40 miles away but roughly in the same direction. Google gives me a triangular route of 106 miles
I then contact my mate Crezz who is up for helping me out, Weds is a bit too soon, Thursday looks doable and the plan is starting to take shape.
I contact Tom the car's owner and inform him I'll be down on Thursday - in the meantime I have to fit a tow ball and electrics to the Delica, that's my job for Wednesday evening with the frost settling on the tools as I work.
Thursday can't come soon enough, I leave work at 4 and stop off at Lidl for a set of ratchet straps and a cargo net they have on special, pick up Crezz and set off for Snake's to collect the trailer and then on towards Exeter.
We got to Toms pretty much bang on 7 and it's dark, we are greeted by Tom and his mate and shown the car, including a huge amount of spares and extra bits, it looks a lot of car for the money. Tom has been busy, the car has wheels fitted but no track rods fitted.
Bit of a struggle getting the car on, with the widetrack being too wide for the ramps and the fact that each wheel could turn in any direction. With the car on the trailer I couldn't open the tailgate on the van, so I had to push the car back down the trailer a bit.
whilst I sorted out straps and stuff
everyone else loaded the delica up
There was recaros and standard seats, two seat of door cards, full stainless system, full polybush kit (still boxed), G60 arches, TSR four branch (still boxed) and loads of other aftermarket bits
I finally got home at around 11pm, parked up, locked the van and left it - hoping it didn't rain as the (electric) window was down on the Golf.
The car itself seems pretty tidy - some oafish idiot put that dent in the side trying to nudge it across the trailer..... ahem. Any idea how best to pop it out - I tried earlier as the rear cards are out and you can push it out but it pops back again.
Not so good from the front, all the bits are there (hopefully) - what to fit in the hole though......petrol or diesel?
Here it is about 9 months ago - happier times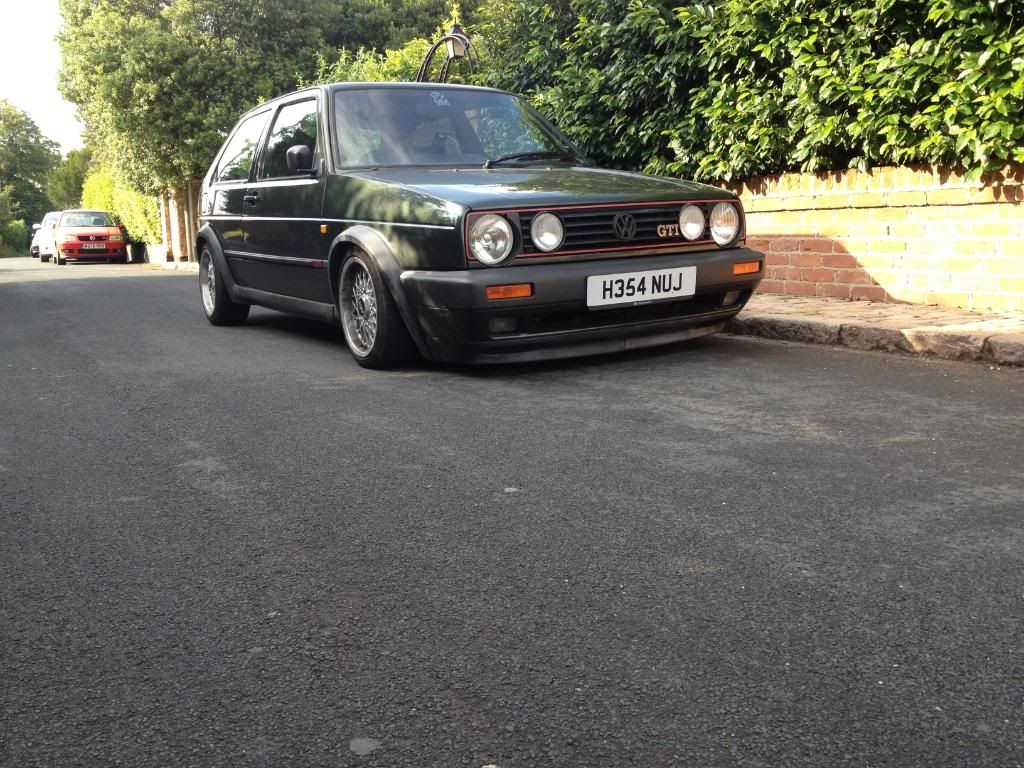 --------------------------------------------------------------------------------------------
Friday evening and I finished unloading the van, as I never loaded the bits on so was pretty amazed with what I've found, aside from what appears to be a complete car (less steering wheel) I've also got the following
two extra power racks
three different right hand rear door cards
full set of FK coilovers
pair of sparco seats....... edit - they're recaros and blooming nice too.
full stainless scorpion system + centre box delete pipe
TSR manifold downpipe thing
full poly bush kit
there were loads of unopened parcels with spares, paints, tools etc
set of new rear discs
powder coated new water pump with low temp something or other in it (stat??)
I've yet to get the car unloaded, there's even more inside that!
On the bad side, there's a 3 inch rusty hole in the sill in front of the rear wheel and a poor patch, few scabs of rust on arches, couple of small dints and the idiot dent in the rear quarter. Oh and some one has pulled the door handle out of the passenger door in the past.
May well keep it 16V petrol for the time being - I can always build a rip snorting densil at a later date....
The passenger window was down and I thought it might well be a problem, jumpered a small battery onto the window motor and it works just fine. Nice!
There's a cobra alarm and electric central locking fitted but no fob, I know the central locking can be a bit iffy, but is there any reason not to get it working and rip out the non standard locking and alarm setup. The wiring looks a bit gash, taped up wires and scotchlocks - I'm hoping it's just all alarm related
--------------------------------------------------------
The weekends activities....were somewhat limited by the promise of "of course I'll get the building work finished in the sitting room and not just leave that stack of blocks there for months on end dear"
I dropped the Golf off the trailer and took the trailer back, then I could empty out the car which was full of interior bits, a lot of door cards - 3 or four offside rears???
Amongst the bits there were a few gems...
Sony head unit, still boxed, same unit as I bought for the caddy and the golf.
Cobra alarm fob
full lock set with keys
complete shift rebuild kit and two weighted shifters
finding that the car is on FK coilovers already
offset with more low points -
water has got in at some point, damp in footwells and a hole in passenger floor
a previous owner didn't appreciate the principle of jacking points, floorpan and sills bear several nasty scars and dents
headlining is hanging down on both sides in the back of the car, dunno why, but it looks like it is too small to fit back - might be ok when the lining warms up a bit and can be stretched.
oh and something I hated about the previous golf, needing a small jack to get my big jack in and out. stupid "I've stanced* my car" lows!
Righto question time for them that might know... the car at the moment has a powdercoated front sub frame and rack fitted with polybushes, this subframe has the five stud hubs attached.
Is this subframe particular to the widetrack setup or are they the same as standard? Can I fit the four stud bits to the five stud subrame and if so what bit, just the hubs, the hub carrirs, the wishbones or the whole subframe if I switch back to standard setup.
If I do stay with widetrack, what about the rear end, do I need a wide rear beam?
*wrecked